Round 1
1. Miami Dolphins (1-15)...Chris Long DE Virginia
Click Here for Highlights of Chris Long ... Click Here for Another Highlight of Chris Long
Miami could go in many different ways here. The most attractive thing to do for Miami is a trade down and acquired more picks to fill their much needed holes. If they can't trade down they could go DT Glenn Dorsey because there run defense ranked towards the bottom in the NFL. Or they could go OT Jake Long because there offensive line had trouble blocking for the QB and Vernon Carey is better suited for RT. They could even go QB Matt Ryan here. They have a big question mark about John Beck and could be wondering if he is the franchise QB or do they need to draft one. I think the best pick for Bill Parcells and the Miami Dolphins is Chris Long. He fits their 3-4 defensive scheme very well.
2. St. Louis Rams (3-13)...Glenn Dorsey DT Louisiana State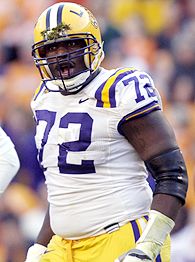 Click Here For highlights of Glenn Dorsey ... Click Here for Another Highlight of Glenn Dorsey
Glenn Dorsey is there number one option now that Chris Long is gone but they could consider OT Jake Long because Orlando Pace is very injury prone and is getting old. After drafting Glenn Dorsey, they could move Adam Carikker (first round pick in 2007) back to his original position, DE, and play Dorsey at DT.
3. Atlanta Falcons (4-12)...Matt Ryan QB Boston College
Click Here For Highlights of Matt Ryan
The Falcons have a tough decision to make here. Do you go after Darren McFadden or Matt Ryan. With Michael Vick being gone and Warrick Dunn getting up there in age, both positions are big needs and will be addressed in this draft. I don't see how Atlanta will pass on their franchise QB because the RB class is very deep in talent where the QB class isn't very deep. I could even see the Falcons trading up with the Dolphins to assure they get Matt Ryan if they think either Miami will take him or someone else will trade up to get him.
4. Oakland Raiders (4-12)...Darren McFadden RB Arkansas
Click Here for Highlights of Darren McFadden
The Raiders would be happy to have Darren McFadden to fall in there laps at the #4 pick. The Raiders have a few decent RB's in Fargus, Jordan, and Rhodes but with Al Davis running the show in Oakland, he will want a player who will attract fans to the stadium. Although with the retirement of DT Warren Sapp, they could go Sedrick Ellis but I don't see them passing on McFadden, Who has been hyped as the best player in the draft.
5. Kansas City Chiefs (4-12)...Jake Long OT Michigan
Kansas City struggled last year protecting the QB and helping make running lanes for Larry Johnson. Jake Long would be an easy pick at the #5 pick. The Chifs offensive line let up 55 sacks last year.
6. New York Jets (4-12)...Sedrick Ellis DT Southern California
Sedrick Ellis is now challenging Glenn Dorsey as te number one DT in the draft after his great senior bowl performance. The Jets need help along the defensive line and probably take the best defensive lineman available. I think that they would really consider Vernon Gholston with this pick but inevitably would end up picking Sedrick Ellis. I think this pick won't be clear as to who they will pick until after the combine and they see how the two guys preform.
7. New England Patriots (From San Fransisco)... Leodis McKelvin CB Troy State
The Patroits could use this pick to fix there aging LB core but with Asante Samuels most likely leaving via free agency, they will need a CB to fill in. McKlevin has made a surge up the draft boards lately after a good senior bowl. The top three CB's are all really close in talent and could all go in the top 20 in any order. I think right now that Leodis McKelvin is the front runner right now.
8. Baltimore Ravens (5-11)...Brian Brohm QB Louisville
I think they would consider Ryan Clady because Jonathan Ogden might be done or only have 1 year left and they will need a replacement. But with Steve McNair being injured a lot last year and with his age, they will have to draft a QB for the future. Unless they make a move for a QB like Danovan McNabb, they will go with a QB, and with Matt Ryan already off the board they will take the next best QB in Brohm.
9. Cincinnati Bengals (7-9)...Vernon Gholston DE Ohio State
Click Here for Highlights of Vernon Gholston
The Bengals are another team who need help along the defensive line. Vernon Gholston is a great pick here because hi is a great pass rusher who can get to the QB. Gholston showed how dominating he could be by dominating Jake Long (projected #5 overall) in the Ohio State-Michigan game. Other people to consider in Keith Rivers, Dan Connor, and Kenny Phillips.
10. New Orleans Saints (7-9)...Mike Jenkins CB South Florida
The Saints secondary is horrid. They couldn't stop teams from scoring through the air and gave up way too many long passing plays this year. They need major help at CB and also S. They could go Kenny Phillips or one of the top CB's in this draft.
11. Buffalo Bills (7-9)...Keith Rivers OLB Southern California
Even though the Bills drafted Paul Posluszny last year in the 2nd round they still need another OLB on the opposite side of Paul. The Bills would love to take a DT here but there isn't a top DT available to them at this pick so go after another need. They also would consider a WR like Malcolm Kelly because they need another WR threat other than Lee Evans.
12. Denver Broncos (7-9)...Kenny Phillips FS Miami University
With John Lynch being 37 years old, they need to find him a replacement and Kenny Phillips is a great replacement. Like the Bills, the Broncos were not very good against they run and their first need is DT but there isn't a DT to take with this pick.
13. Carolina Panthers (7-9)...Quentin Groves DE Auburn
With both DE's being over 30 years old they have to find a solid replacement for them. Then next two DE's are very close in talent and one DE could easily go before the other.
14. Chicago Bears (7-9)...Ryan Clady OT Boise State
The Bear need a franchise QB now that Rex isn't it. But there isn't a QB here to take so that will have to wait. The need to beef up there offensive line because they had no running game last year and they are gonna want to protect there QB a lot better than they did with Rex and Griese.
15. Detroit Lions (7-9)... Dominique Rodgers-Cromartie CB Tennessee State
After trading Dre Bly away last year, they never found a replacement. The Lions rank towards the bottom of the ranking in passing defense, 31st to be exact. Dominique Roger-Cromartie is a big fast physical CB.
16. Arizona Cradinals (8-8 )...Jonathan Stewart RB Oregon
Edgerrin James is now 30 years old and the Cardinals are going to need to get a young RB.
17. Minnesota Vikings (8-8 )...Malcolm Kelly WR Oklahoma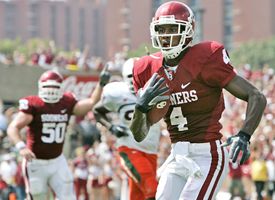 The Vikings are going to need to get a real WR threat to take the pressure off Adrian Peterson and stop the defenses from lining up 8 players in the box. Also Tavarius Jackson will need some more targets other than Sidney Rice. With an awesome offensive line and running game and adding a great WR will really help Jackson succeed next year.
18. Houston Texans (8-8 )...Rashard Mendenhall RB Illinois
With no real threat at running the ball and an offensive line that lets up a lot of sacks, the Texans need to get a RB to take the pressure off of Matt Schaub. They also could take an OT like Chris Williams here too, but I look to see them address than need in one of the later rounds.
19. Philadelphia Eagles (8-8 )...Sam Baker OT Southern California
The Eagles do have Winston Justice but he is best suited to be a RT and a LT is need in this draft. The Eagles do have a tendency to take and early draft pick on offensive lineman.
20. Tampa Bay Buccaneers (9-7)...Desean Jackson WR California
Jackson is a fast WR that doubles as a return specialist. The Buc's need another WR to help out Joey Galloway and eventually replace the veteran WR. Jackson will help this offense out a lot with his ability to spread the defense with is speed.
21. Washington Redskins (9-7)...Derrick Harvey DE Florida
With the Redskins struggling to get to the QB at sometimes during the season, they should look to add to the pass rush especially since they have seen what there rival team, Giants, did to the Patriots by dominating the defensive line.
22. Dallas Cowboys (from Cleveland)...Reggie Smith CB/S Oklahoma
The Cowboys need help in the secondary, either at Safety or CB. Why not take a guy who can play both. If the Cowboys don't trade up to get Darren McFadden, Jerry Jones has not hide the fact that he likes McFadden, look for either a CB or a WR here.
23. Pittsburgh Steelers (10-6)...Jeff Otah OT Pittsburgh
24. Tennessee Titans (10-6)...Early Doucet WR Louisiana State
25. Seattle Seahawks (10-6)...Felix Jones RB Arkansas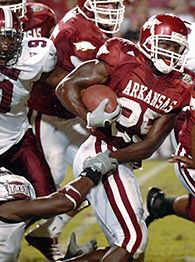 26. Jacksonville Jaguars (11-5)...Aquib Talib CB Kansas
27. San Diego Chargers (11-5)...Kentwan Balmer DT North Carolina
28. Dallas Cowboys (13-3)...Limas Sweed WR Texas
29. San Fransisco 49ers (from Indianapolis)...Pat Sims DT Auburn
30. Green Bay Packers (13-3)...Chris Williams Ot Vanderbilt
31. New England Patriots (16-0)...Forfiet due to Spygate***
32. New York Giants (10-6)...Dan Connor OLB Pennsylvania State
Round 2
33 Miami Dolphins...James Hardy WR Indiana
34 St. Louis Rams...Goshder Cherilus, OT Boston College
35 Atlanta Falcons... Red Bryant DT Texas A&M
36 Oakland Raiders...Calias Campbell DE Miami University
37 Kansas City Chiefs...Antoine Cason CB Arizona
38 New York Jets...Devin Thomas WR Michigan State
39 San Fransisco 49ers...Mario Manningham WR Michigan
40 Baltimore Ravens...Anthony Collins OT Kansas
41 Cincinnati Bengals...Ali Highsmith OLB Louisiana State
42 New Orleans Saints...Curtis Lofton MLB Oklahoma
43 Buffalo Bills...Fred Davis TE Southern California
44 Denver Broncos...Jerod Mayo MLB Tennessee
45 Carolina Panthers... Jonathan Hefney FS Tennessee
46 Chicago Bears...Andre' Woodson QB Kentucky
47 Detroit Lions...Carl Nicks OT Nebraska
48 Arizona Cardinals...
49 Minnesota Vikings...
50 Atlanta Falcons(From Hou)...
51 Philadelphia Eagles...
52 Tampa Bay Buccaneers...
53 Washington Redskins...
54 Cleveland Browns...
55 Pittsburgh...
56 Tennessee...
57 Seattle...
58 Jacksonville...
59 Miami (from San Diego)...
60 Dallas...
61 Indianapolis...
62 Green Bay...
63 New England...
64 New York Giants...